Last weekend I was able to complete a new release of the Sidekick WordPress Plugin, adding enhancements to the WordPress Menus section. If you are working with some serious menus you will totally like this.
25
What is the thorn in your side when you work with WordPress? What bugs you and what would make your development life a lot easier?
I've significantly reduced comment spam on this blog. I have been trying out a different WordPress comment spam plugin. Now I am getting between 5-10 spam comments a week (skimming is much easier). If you are having problems with comment spam on your blogs, give this plugin a try.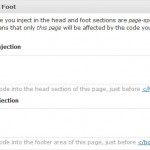 16
HiFi is a head insert and foot insert plugin. It allows you to include script, style, meta and any other code you want into your posts and pages. The inserted code is page-specific, this means that only the pages you want will be affected.