10
This special guide will show you how to configure Gmail to work with your current POP accounts, use IMAP access to transfer old emails, use labels to better organize your mail (the power of labels), add an on-demand "check mail" link and setup Gmail for offline use.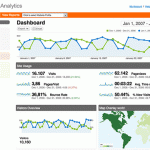 3
Google Analytics is a wonderful tool, there is no disputing that. But, how many of us really, and i mean really, know about all its features and how to use them? Well today I came across a great find…
0
Recently we had an issue with CalVis (a Google Calendar visualization) where events for the last day of the month would not get displayed. So I threw on the old troubleshooting hat and started to poke around, the solution is a quick one:

183
The general idea is to read a Google Spreadsheet through PHP and save user submitted form data via the Google Documents List Data API. By doing this, you can quickly view all the submissions at a glance and you are also able to export CSV files of the data. Using Google Docs gives you and your clients a quick and easy interface to interact with form data.