My name is Dimas Begunoff (deem-uss begun-off), I am the lead code-slinger at Hitch Creative, now Mighty Digital. I develop engaging, functional and efficient frontend/backend solutions using open source web tools and standards.
How I Got Started
I started using a computer when I was about 17 (just a regular HP in the era of AOL and Prodigy). The hype was the Internet and I wanted to get online and see what was happening. There was Yahoo, AOL, Alta Vista, Lycos and Excite, which at the time were the popular search engines and portal type websites.
I became interested in how these sites were put together, so I started learning. The beautiful thing about the Internet at that time, and even now, was how people wanted to share their information with you. I found a lot of good content about HTML and web development. My first site was a geocities site and it looked pretty much like all the other sites you saw at that time; It had a linear layout, one main image, a headline and everything was centered (ah, to think of it now, web development has come a long ways).
During most of my teenage years I worked for the San Francisco Conservation Corps in a program called Youth in Action (those were good times). There was a turning point where I needed to make a decision on whether to continue with the SFCC or try to apply for a new internship program being offered in San Francisco called OpNet. I remember this because the SFCC had one available position (and it was totally mine if i wanted it), or I could decide to take a chance and see if I could get into the OpNET internship program. Well, all is history…
The program was an intense six-week web development training course which I completed. The great thing about the OpNet program was that it gave me the opportunity to continue the internship at a web development agency. I got real world experience doing web development and design for an established firm.
I internshipped at Pharos Interactive, located in Sausalito, California. At the time I was living in San Francisco, I had to commute across the Golden Gate Bridge everyday. It was like a full time job. It was just a wonderful drive across the bridge to Sausalito, which is a beautiful area, totally enjoyable and I was doing what I loved.
I learned a lot working for Pharos Interactive. Flash was big at that time and I was really into it, I did a lot of Flash work. Everyday was challenging and I was always learning new things.
During my time at Pharos I was introduced to another firm called Fogworks. After Pharos I worked for Fogworks and other firms doing freelance work (website development and a lot of Flash). At Fogworks is where I met Dana and Gaird. We've had a great professional relationship; after freelancing and working for a telecom company, Fogworks (now Mighty Digital) hired me full time.
More than just a job! At Mighty Digital we do a gamut of projects. Everything from creative design, print, web interactive, Flash, frontend/backend, web app development (such as YomoMedia) and internal web apps.
So, here I am … I currently live in Fresno, California and work remotely.
Kajukenbo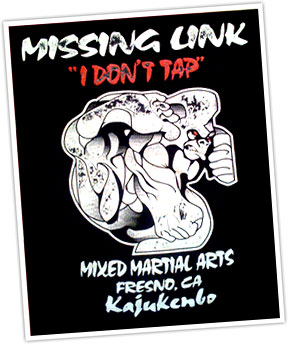 I started Kajukenbo training in 2008. I first got into it after watching a special on Discovery channel about Filipino fighters doing Eskrima. I was actually looking for Escrima classes here in Fresno and came across Kajukenbo. I did a six week class and then joined a local school (Missing Link MMA). I train under Sifo Art Hughes.
I am pretty consistent in my attendance, and average about 2 sessions per week, every week. I'm becoming more aware of the mechanics involved in achieving a better executed strike (but I ain't no black belt … yet).
When you first start, you don't necessarily know what you're doing. Like other sports or activities, you try to go through the actions and gradually you become proficient because of the practice. You begin to have a more acute awareness of the actions you're doing. You start looking at: am I doing the actions correctly; are my motions as they are supposed to be? What can I improve to be more effective? The punches, the hooks, the counters, the takedowns, the groundwork.
Every session starts with half an hour to 1 hour of cardio (sometimes a full 2 hours, whatever Sifu is in the mood for). The main principle behind this: Sifo tells us, cardio and exercise is important to build strength and stamina. Fights typically don't last long, but usually the victor is the person who is in the best shape and is physically hardened. Cardio is then followed by mid-drills; boxing, punching, kicking and sparing. Then we do technique: takedowns, groundwork, grappling, more traditional grappling.
We always focus on the actual meaning and practice of the art: get in, "kick ass", and get out of a situation fast (that, in a nutshell is Kajukinbo).
Snowboarding
The thing that got me into snowboarding was seeing everybody else around the mountain, snowboarding so effortlessly, just chilling on their boards and riding down hill.

My first time snowboarding wasn't as smooth! A friend of mine, invited me to Sierra Summit (now China Peak), a resort near Fresno … my first run of the day (well, ever) was Academy, it's the highest and longest run on the mountain (2.5 miles long). First time snowboarding is never all that fun, I think Chad lapped me a few times, while I was trying to make it down hill.
I've been snowboarding through two full seasons (08-09 and 09-10). My goal was to get good, be able to go down the mountain, ride the different runs, carve left and right, do all that stuff. I'd say it probably took me a dozen times to feel like I was making some progress and start feeling like "I'm not going to fall once this run" (it was always a question, a 50-50 chance). My biggest take away from that season was "board tuning", after I dulled my edges, it helped my riding immensely (and my face and arms too).
The 09-10 season goal was to learn how to snowboard in some of the deeper powder and start learning some basic jumps. The nice thing about this season was that we got so much snow, a lot of powder days! I learned to ride powder much better and also started to get comfortable jumping (nothing big, or impressive), just learning take off and land.
My first jumps were, needless to say, not so successful. On one occasion, I went off a jump, I remember curling into a ball (don't ask me why), I got pretty high and I came down pretty hard, on my side. I actually continued ridding the rest of that day. But that night, my ribbs were bruised and it hurt bad, especially when I breathed. It sucked to sleep; I couldn't turn on it, I couldn't sleep on it, even sleeping on my back was painful, and if you had to sneeze, ouch, that was the worse. It took a while to heal, probably 4-6 weeks before I was totally feeling better (thats 4-6 weeks of trying not to get punched in the ribbs when at Kajukenbo training). Thinking back on it, I probably broke/fractured a rib.
As I continue snowboarding, my goals are: to get better at jumping (actually, better at landing) and to become more nimble on the board, so I can pull off some flat-ground tricks. I'm looking forward to it.
Four Wheeling and Camping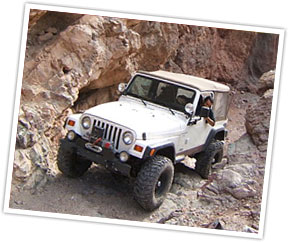 I love four wheeling and camping. I've been wheeling for a few years now and more so after I got into the Four Wheel Drive Club of Fresno.
The members of the club will go up to the different trails in the Sierra's. We actually maintain many of them (we open and close them each year). On the trail, members clear fallen trees, do restoration work, put in new bathrooms/facilities and do a lot of other trail maintenance work. I joined the club to be able to have access to these trails and to be with people who know what they're doing. In fact, I've learned a lot since I started four wheeling with the club.
Camping is great, but it's even better when you can get off the beaten road and camp in more remote places. The jeep helps with that! It's great being able to camp places like Bald Mountain, Dusy Ershim and even Pismo Beach.
Simply put it, the jeep performs! I have yet to get stuck with the jeep. The one bit of advice I've gotten which has proven the best advice so far is: when you're picking a line to drive, whether driving in sand, dirt, or snow, if that line suddenly starts not working for you, or you start digging in, DO NOT continue that line. Stop, back up and reassess what you're doing (before you dig yourself any deeper). So many people get stuck because they feel they have to power through it.
I love my jeep…
1998 TJ, 4.0L I6, 5sp, 4.88 Alloy Gears, D30[Aussie Locker]/D44[Detroit TrueTrac] 33″ Toyo Open Country MT, 2″ BB Lift + 1″ Eng./Body Lift, TW-SYE + Drive Shaft