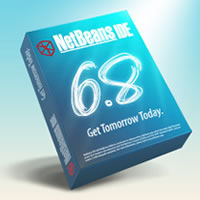 Before I get started, I'll preface this with the fact that, I have been using the NetBeans IDE for a little less than 6 months; but for that period of time, I have grown to like it very much. These are the top features I have found which allowed me to become instantly productive.
Line Duplication (CTRL + SHIFT + UP or DOWN) — Allows you to duplicate the current line above or below. IMHO, a must have for any editing application or IDE.
NetBean Projects — It took me a while to understand and start using "projects" in NetBeans but now it is an important part of my workflow. The best part is that when you close a project, NetBeans will remember all your open files, when you reopen that project you can pick up right where you left off. This is really nice when, during the course of a work day, I touch more than one project. Additionally when closing NetBeans for the evening, NetBeans will remember your current state, which projects and files were open.
Variable Rename (CTRL + R) — If you're like me, sometimes its hard picking a meaningful variable name right on the spot. I often go back after getting things functional and rename variables for better readable code. NetBeans makes this process easy. Additionally, NetBeans detects the scope in which the variable exists and will only rename variables in that scope, pretty nifty.
Code Completion (CTRL + SPACE) — So useful when I can't quite remember the parameter order for a certain function. Notice that the code completion appears below the active line and the documentation appears above. You can change the location of the documentation by adjusting an option setting (Tools > Options > Editor Section > Code Completion > Display Documentation Next to Completion).
The Navigator Window (CTRL + 7) — I use it to quickly pin-point class properties, methods and functions. This really comes in handy when trying to locate a method in a large class. I typically sort by name so I can quickly scan for the method I'm looking for.
Of course there are many more facets to NetBeans so if you have a feature or functional bit that helps you be more productive, please share it.