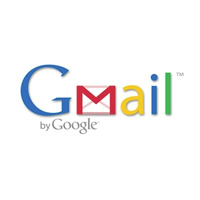 This special guide will show you how to configure Gmail to work with your current POP accounts, use IMAP access to transfer old emails, use labels to better organize your mail (the power of labels), add an on-demand "check mail" link and setup Gmail for offline use.
So I've officially switched from using Mozilla Thunderbird to Google Gmail. It has been a while now since I've made the move and it's been smooth sailing. Gmail is snappy (and I mean fast), the user interface is simple and it's easy to use.
So, if you're interested … I'm going to tell you how …
Why Switch to Gmail
Gmail has helped me decouple my email from a single desktop/computer. I am now free to check email on multiple computers, plus I don't have to worry about the email backup and restore hassles when upgrading my operating system and/or doing a format + fresh-install (my custom built desktop has gone through several revisions).
My rant: you can skip this part…
I've used prebuilt computers (HP, Dell, etc.), put together computers, upgraded operating systems, reformatted hard drives with fresh installs, used/use multiple computers (often times bouncing around between a laptop and a desktop) … and the biggest annoyance in all this, has been the backup and restore procedures and not being able to smoothly work on multiple computers (when it comes to email).
Moving to Gmail is a single step in a bigger goal of moving to certain cloud based services.
Getting Started with Google Gmail
So real quick, this is what I'm going to be covering …
How to configure Gmail to work with your current POP accounts (connecting your personal and work accounts)
Using IMAP Access to transfer existing/saved email from Mozilla Thunderbird to Gmail
The power of using Gmail's labeling system
Understanding how Google checks for email (and why it can be a little annoying) and how to solve it
How to setup Gmail for offline use (for those times when you loose connection)
First off, you will want to create a Gmail account if you don't already have one or if you want a fresh one (I'll assume you already know how to do this or can do it on your own).
POP Into Gmail (POP3)
IMHO any web based client needs to have free or cheap POP3 support. Lets setup our existing POP account on Gmail (work or personal).
Go to Settings
Go to Accounts and Import
In the "Check mail using POP3" section click the "Add POP3 email account" button


In the "Add a mail account you own" popup, enter the email address of the POP3 account you want to add and click the "Next Step" button


Enter your Username, Password, POP Server host (typically mail.[name].com) and Port number (default 110) and click the "Add Account" button (If you are going to be using another email client while using Gmail, you will want to enable the "Leave a copy of retrieved message on the server" option)


After Gmail successfully connects to your POP3 account, you will be asked "Would you also like to be able to send mail as [email]?", select "Yes" and click the "Next Step" button (For work email this is beneficial, so that the emails you send will come from your work email address)


Enter the name you want to be shown on the emails you send (you can also enter a different "reply-to" address) and click the "Next Step" button


If your POP3 email account also has a SMTP server, I would recommend sending mail using the SMTP server vs sending through Gmail, here is why:


Your Gmail address will still be included in your email header's sender field, to help prevent your mail from being marked as spam. Most email clients don't display the sender field, though some versions of Microsoft Outlook may display "From yourusername@gmail.com on behalf of customaddress@mydomain.com." For this reason, if you don't want 'on behalf of' to appear in any of your messages, we recommend using the SMTP servers of your other email provider.

Select "Send through [email] SMTP servers" and click the "Next Step" button



Enter your SMTP Server host (typically smtp.[name].com or mail.[name].com), Port number (usually 25), Username and Password and click the "Add Account" button


Gmail will send a confirmation message to the POP3 email account (ya you need to have a way to check it), the email message will have a "confirmation link" so you can click the "Close window" link, remember to check for this confirmation email and click the confirmation link.


Transfer Old Mail From Thunderbird to Gmail
I thought this was going to be the hard part, but it's really not. If you know nothing about IMAP, it's basically a way to store email on the server and use a client like Mozilla Thunderbird or Outlook to sync and read those emails.
So what I did was enable IMAP access to Gmail. Then I used Thunderbird to connect to my Gmail account. Thunderbird will sync with the Gmail account and show you all your labels (in the form of folders).
After you setup Thunderbird to connect to Gmail you can then begin the process of moving or copying your old email. You can simply drag and drop your old email into the different labels/folders and everything will be synced to Gmail through IMAP.
Go to Settings
Go to Forwarding and POP/IMAP
Select "Enable IMAP" in the IMAP Access section and click the "Save Changes" button


In Mozilla Thunderbird select "Tools" > "Account Settings…" to bring up the Accounts Settings window


Click the "Account Actions" button and select "Add Mail Account…"


Enter in your Gmail account information and click the "Continue" button


After Thunderbird successfully connects, click the "Create Account" button


Click "OK" to exit the Accounts Settings window
It may take a few minutes for Thunderbird to sync and then display your Gmail labels.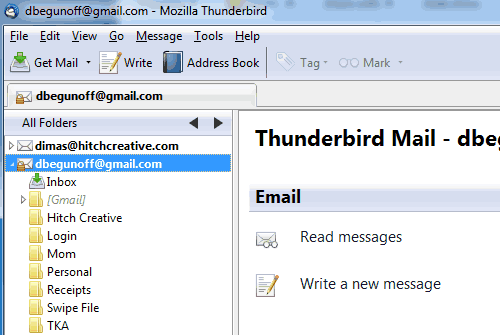 At this point you can start moving or copying old emails into your Gmail labels, the email you copy will all be synced with Gmail. This process should be done once to setup Gmail with all your old mail.
Not so hard, eh!
The Power of Labels (Gmail Labeling/tagging)
Gmail labels are awesome! With labels you can effortlessly organize your emails. The beautiful thing is that you can assign multiple labels to one email. It's like tags for delicious or tags for a wordpress blog post.
What makes Gmail's labels better than folders is that you can "put" any message in any number of folders. An email can belong to the "most urgent" messages as well as to a particular project at work, for example. It can carry the "needs follow-up" and "family" labels at the same time, and you will find it under both labels.
Read: How to Organize and Categorize Messages with Labels in Gmail
F**king Gmail, Where's the "Check Mail" link
That's about what I said too … but there is hope!
Gmail will automatically check for new email on its own determined frequency.
Gmail checks individual accounts for new messages at different rates, depending on previous mail fetch attempts. At this time you can't customize the frequency of automatic mail fetches.
The manual process to do this is to:
Go to Settings
Go to Accounts and Import
And click "Check mail now" for each of your POP3 accounts


I kinda got tired of this and found a better way. I installed a Greasmonkey script which adds a "POP3" link to the Gmail interface along with all the other links (top right). It's really useful for those instances when you get confirmation emails or someone just told you they just sent you something.

So first off you're going to need Greasmonkey … you can get it for Firefox, IE and Google Chrome will run many Greasemonkey scripts out of the box (I'm using Chrome 4.1.x).
Important: Before you download, if you want to change certain settings of the script (like i talk about below) you should "right-click" and choose "save link as…", the script (its a javascript file) will save to your computer as "gmail_check_mail_now_.user.js", once you have it you can configure it to work the way you want.
Gmail Check POP3 Mail Now (go to Daniel's site and download)
By Daniel Slaughter
By default the script is set to check mail every 8 minutes, since Google already does automatic checking, I don't need the script to do this also, so I've edited line #10 of the script, so that it looks like this:

var checkEvery = 0;

If you prefer to have the script check mail every "n" minutes, it will also display a countdown timer by default (annoying) but you can turn it off by editing line #13 like so:

var showCountdown = false;

Offline Gmail — Reading Email in the Dark
The nice thing about desktop clients like Mozilla Thunderbird and Outlook is that you can check email even when your offline … Well, Google Gmail can also do it, and like watching TV, its pretty easy too.
If you are going to setup offline access you will first need to install Google Gears. Do this first before continuing …
Go to Settings
Go to Offline
Select "Enable Offline Mail for this computer" in the Offline Mail section


In the "Download options" section you can specify what you want to be able to read offline. I recommend you select "6 months" as a recent message range and click the "Change Label Settings" link


Review the other options
Click the "Save Changes" button
You will be prompted by Google Gears to allow access for Gmail to store and retrieve information, click the "Allow" button


Google will begin to synchronize your email


When its all done you should see a little green check mark denoting "online and fully synchronized".


If you want to test it, temporarily disable your Internet connection and browse to Gmail, you'll be able to view your email but only for the range you've specified.
Learn More About Google Gmail